Our Objective
To enhance access to justice for the poor and marginalized.
Our Objective
To create linkages and strategic partnerships with key stakeholders.
Our Objective
To build sustained & structured legal aid service
Our Objective
To build capacity of community justice system.
Our Objective
To empower the community to identify & report human rights violations.
Our Objective
To train community champions on human rights and ADR approaches.
Our Objective
To create awareness on Human Rights, ADR and Legal Aid Act.
Legal Aid Clinics
This is an avenue that offers members of the public an opportunity to discuss their issues with a lawyer for legal advice. We have mobile legal aid clinics and an embedded legal aid clinic at the faculty of law. During mobile legal aid clinics we go to the people and talk to them. At the embedded clinic, members have an opportunity to visit the faculty of law for personalized legal assistance. The embedded clinic is open twice a week, on Tuesdays and Thursdays.
Special Trainings
We conduct tailor made trainings with different groups on matters such as gender and women rights, administration of justice, and alternative dispute resolution among others.
Call Centre
We have a call center that is open 24/7 serviced by three Toll-Free Numbers through which clients can reach us for help. Sensitization Workshops: We hold sensitization workshops with different clusters of the community on different issues including but not limited to Constructional rights and the Legal Aid Act (2016).
Pro-bono Services
Yes, we offer pro-bono services to clients once we assess and arrive at the decision that a certain case is deserving.
Keeping the discussion alive
To amplify this debate on access to justice we collaborate with Nakuru based radio and television stations in sharing information. These discussions have acted as referral points for clients to us.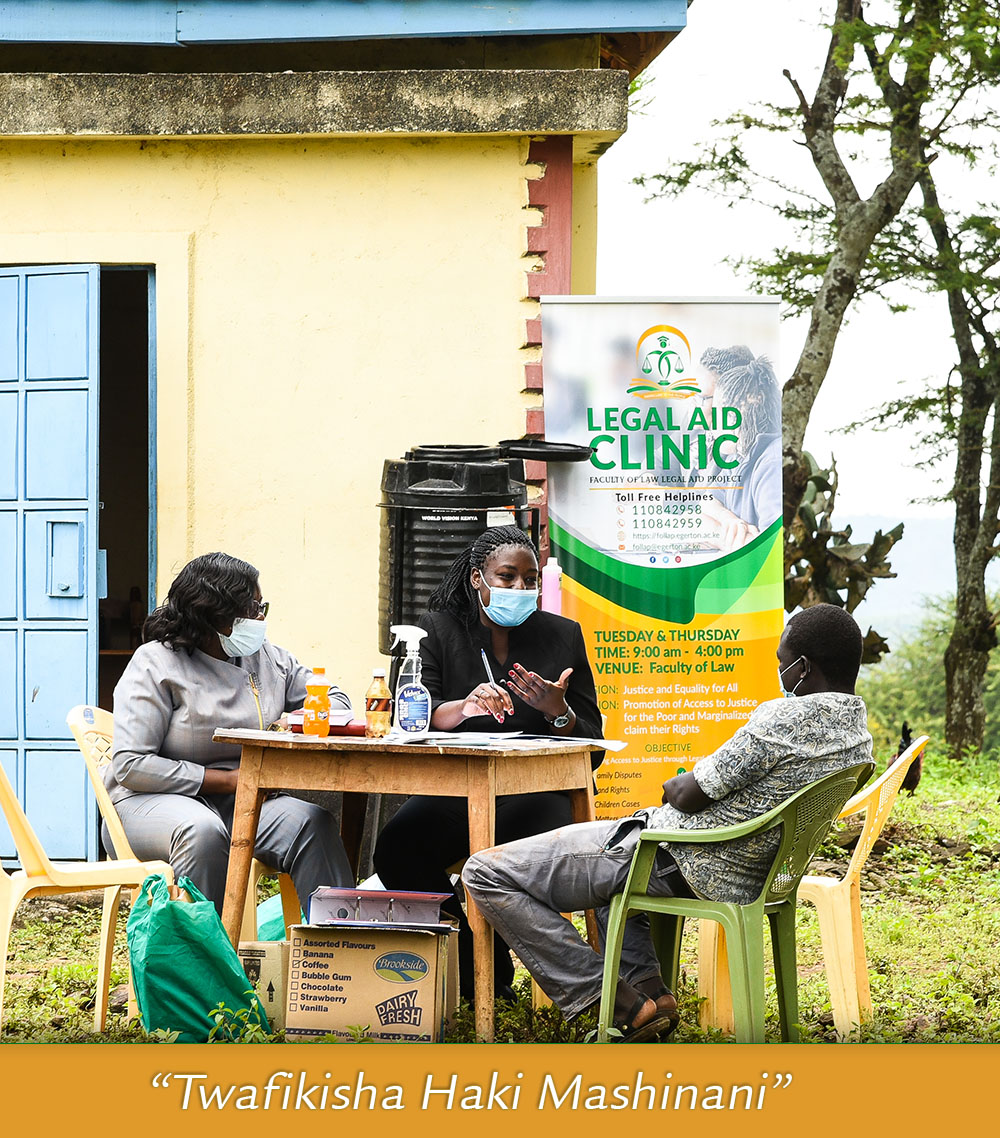 People in Bahati, Nakuru Town West, Naivasha, Subukia, Molo,and Rongai will benefit from this project.